About me
Someone I loved once gave me
a box full of darkness.
It took me years to understand
that this, too, was a gift.
– Mary Oliver
For about twenty years I have accompanied people on their personal way of life. My big passions are travelling and nature, both of which reflect the great qualities of divine character. Since 2001 I have practiced intense quiet retreats in India, Sri Lanka and in Europe. Life has led me to inspirational teachers and companions on my way.
I needed many ups and downs to realize that life itself – the here and now – is my true master. Dharma – the law of life and the teachings of overcoming suffering – is central in my life, and I have been opening up with continually growing trust for the deserts and storms of existence.
My biggest teacher is nature. In nature I feel being carried and protected.
It reminds me of the fact that everything is holy, that every human being and every animal wants to live. In dignity and in love.
Nature reflects the unity of all things to me. Lying on the earth, sensing her pulse I feel connected.
The space of the sky protects me; the air, my breath connects inside and outside flowing into each other, becoming one.
– Nirmala
For eleven years I have been living with my wonderful Zen teachers – three children and my husband – in 'Lebensgarten Steyerberg' an eco- village in the north of Germany.
Nirmala Katrin Werner (born 1976)
~ Qualified social worker (studies in the Netherlands and in Germany)
~ Various Yoga trainings in Asia and Europe since 2003 (E-RYT 500)
~ One year's meditation retreat at Nilambe Meditation Centre/Sri Lanka
~ Silent retreats in Asia and Europe following the tradition of Goenka, U Sayadaw Mahasi, Open Dharma and others
~ Training as Orgodynamic practitioner® (2016-2019) (Transpersonal bodypsychotherapy)
In 2019 I was authorized by von Christopher Titmus to teach Dharma and Meditation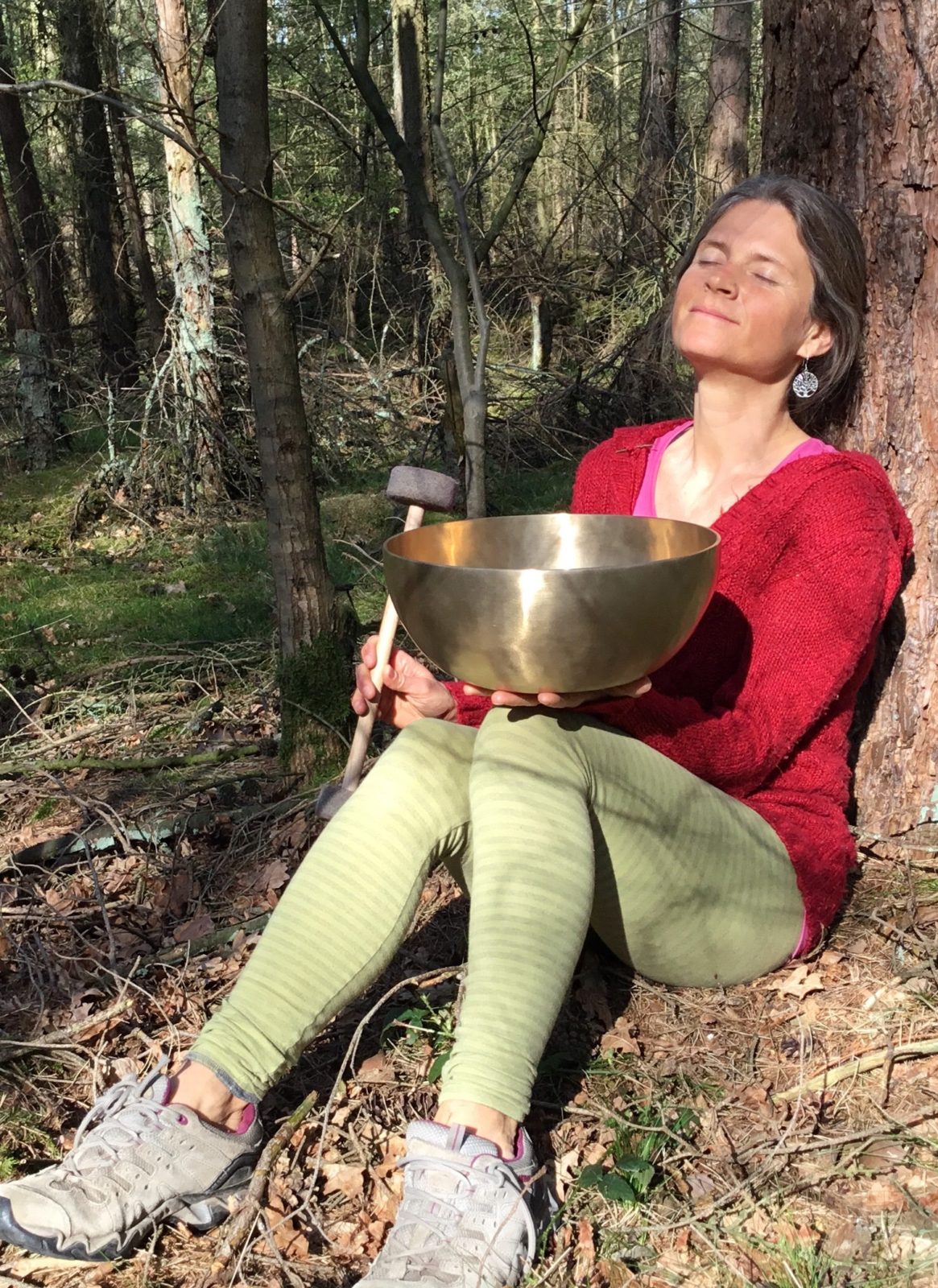 Als ich zu dir kam, gab es für mich nur "An" und "Aus". Jetzt kann ich auch "standby". Ich habe gelernt "anzunehmen". Ich bin gelassener geworden.
Du schaffst es mir den Weg zu innerer Ruhe und inneren Frieden zu weisen. Noch nie in meinem Leben habe ich so gerne gelernt wie bei dir.
Du bist so ein wundervoller ehrlicher Mensch, mit einer einzigartigen Ausstrahlung.
Danke für so viele wunderbare Momente, Gedanken und gewonnene Erkenntnisse, die mein Leben und das vieler anderer durch deinen wertvollen Yogaunterricht bereichern.
Wir erfahren so viel von dir ohne im direkten Dialog zu stehen und irgendwann hat man das Gefühl nur nehmen zu können.
Und dann kommst du mit deiner liebenswerten, selbstlosen Art und bedankst dich bei uns…Du bist ein ganz besonderer Mensch, der mein Herz öffnet.
Jedesmal wenn ich in deine Stunde kam, hat sich in mir plötzlich eine Klarheit ausgebreitet und ich wusste genau, was gut für mich ist und was nicht.
Veränderungen wurden unausweichlich, zum absolut Guten natürlich. Du machst andere Menschen glücklicher.
Wer weiss wer ich bin ?
Ich wandle und wandle mich
– Rilke