It really happens. I am in Vashlovani National Park and about to get on a horse saddled with felt blankets. What doesn't mom do for her daughter?! Because this has wished this adventure, as a balance to the great boredom, which she has lived through in Portugal.
No sooner said than done. Here we are now driven to Georgia with our Citroën Jumper. Quite differently I had imagined our trip, had pictures of sun and beach in me…Instead, we drive through snow on the Black Sea coast of Turkey. As I am practicing to accept every situation to awaken in lightness, love and tolerance, I am relaxed with the circumstances. Who gets fresh bread delivered to the bus by hospitable Turks at minus eight degrees and ice from inside the window in the morning? The hospitality of the people in Turkey, which we appreciate and thank very much (precisely because our children are allowed to experience it!) ensures that we make slow progress, as we are often invited to tea and sweets soaked in honey.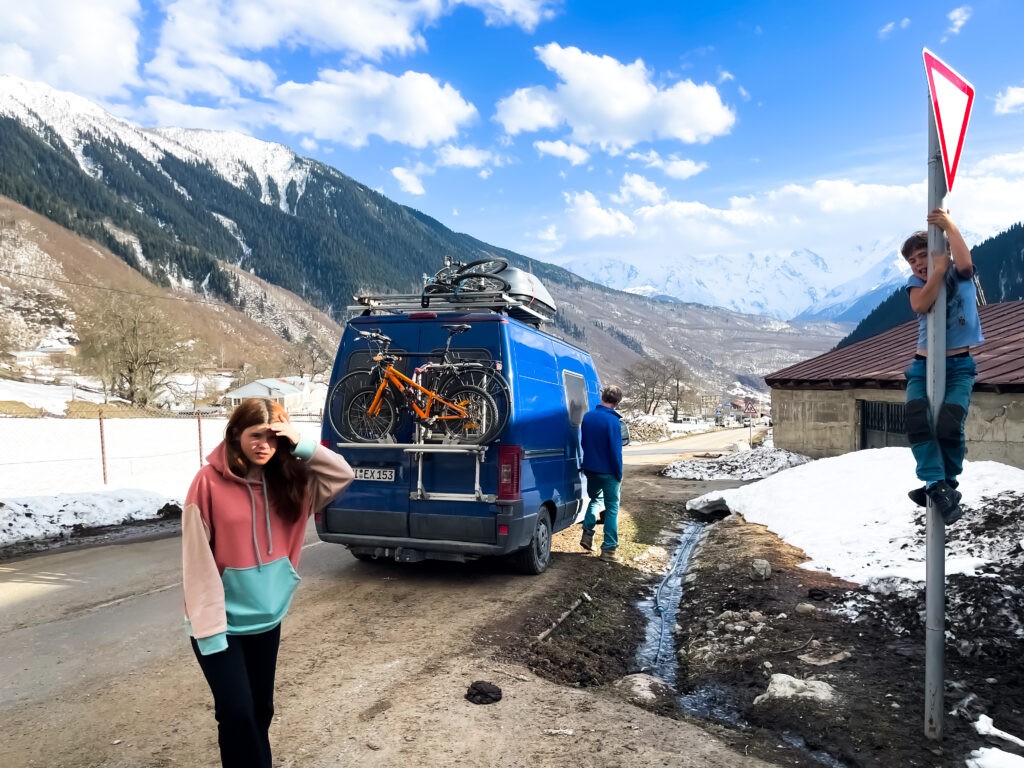 Vashlovani National Park. Karst landscape in the extreme southeast of Georgia. My butt! On the very first day we are on the road with the horses for six hours. We are 5 participants who joined this adventure organized by my friend Annette – who fell in love with this country 10 years ago. (For more photos check out her website wildes-zeug.de.) Among them my horse-loving 14-year-old daughter and me completely inexperienced beginner rider, who honestly is even a bit afraid of horses. Two Georgian guides, Soso and Dima, brothers, one of them a proud owner of 65 horses, who enjoy a lot of space and endless expanse in the wilderness of Georgia. And another mother with her two daughters, who after a few days feel like family to us. Annette and her husband Wolfgang, fortunately for me another novice rider, have been shopping for us for days, especially lots of vegetables. Then there is our faithful driver Atschiko, who transports our luggage and helps in the morning with saddling up and taking care of the horses.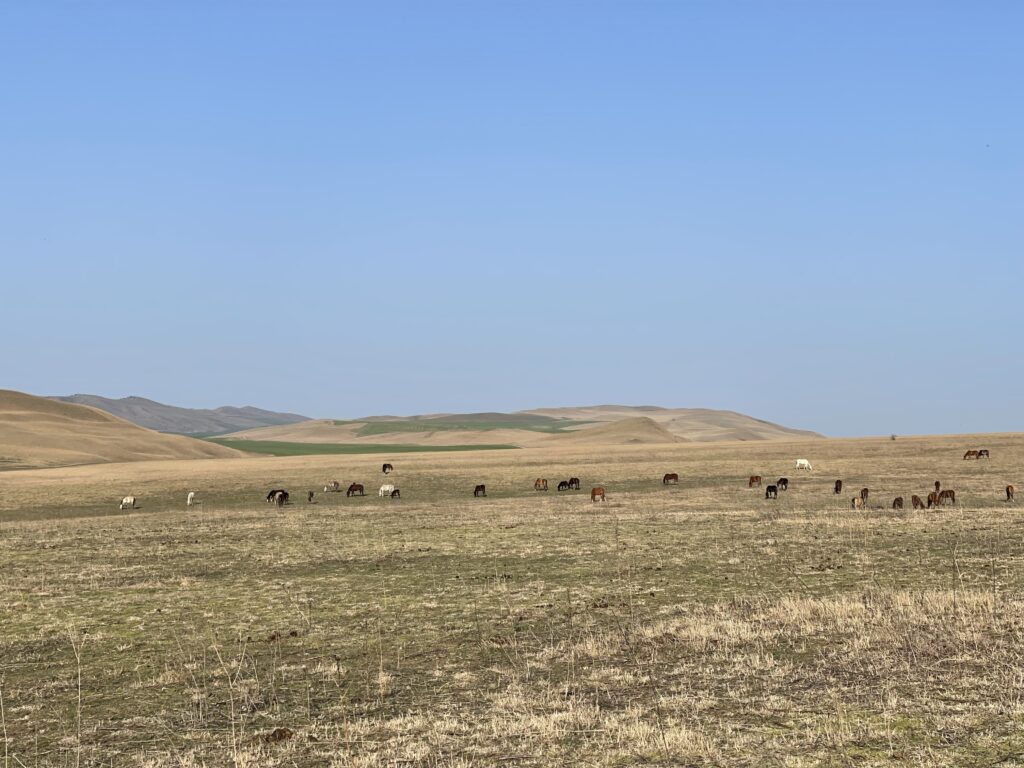 The next morning at Soso's farm I wake up and look for a place outside for my yoga and meditation practice. Not so easy! Although seemingly infinite space surrounds me, I am hemmed in between various herds of sheep, horses and cows, plus the respective shepherd dogs. The soundscape in this silence is moving and fills my whole being. I decide to just stand still and perceive. And immediately everything feels one and wide…and very peaceful.
Today I get another horse that will accompany me for the next seven days. Apparently it doesn't trot so much (ouch) but tölts, whatever that is exactly. Anyway, the butt doesn't hurt as much anymore. My little horse doesn't really want to go with me, but would rather go back to the herd, and I immediately feel guilty about whether I really want to do that to an animal. I live vegan for more than 20 years and appreciate the freedom of animals very much! Well, there is no turning back now anyway. For the first 10 kilometers, Soso tries to send his dog, which has been following us, back to the farm. Unsuccessfully. We christen him Mandarin and he is with us for the whole week, which turns out to be an extra thrill in this already big adventure. Because we have to save him again and again from the shepherd dogs we meet. (This then looks like we all ride between the shepherd dog and the Mandarin, trying to create a barrier. Well, I wouldn't say I ride anywhere, my horse just follows the others….Or doesn't either and then Dima or Soso picks me up somewhere😊 These regular diversions are totally my thing for me beginner, as you can imagine ……………. ("Help! Shepherd dogs! Rescue mission for Mandarin! Hang on! Eyes closed and through!")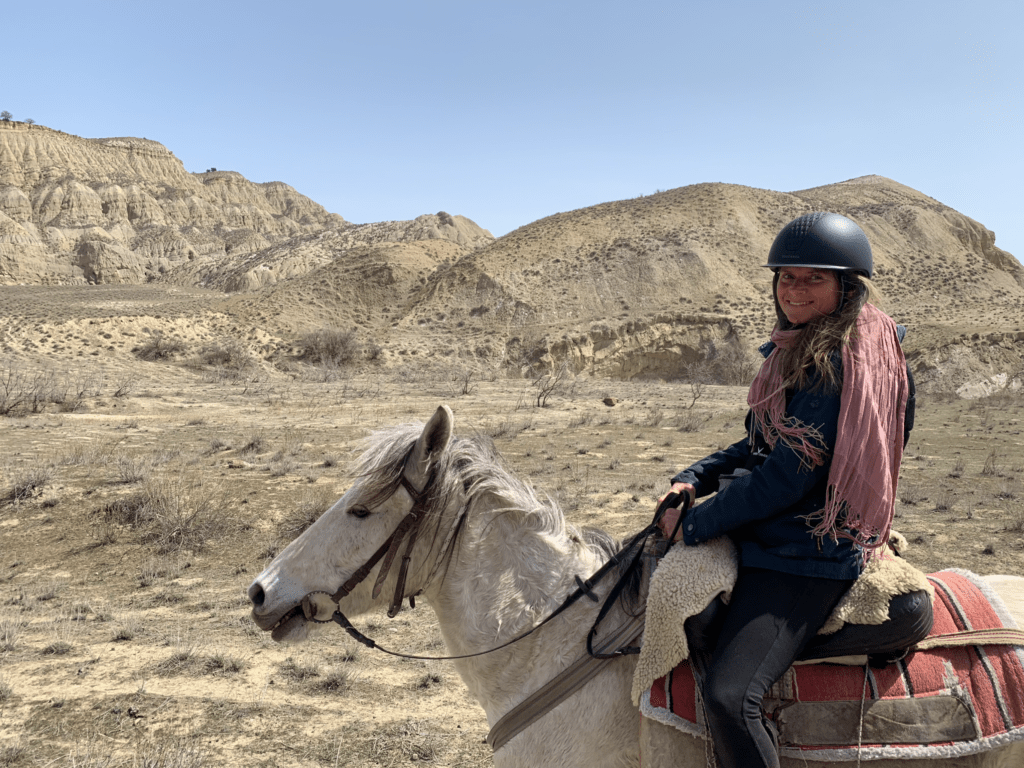 Deeper and deeper we ride into the wilderness, where finally there are no more flocks of sheep. The landscape passes me by in shades of gray, beige, ocher and brown, and I take a leap of faith. What else remains to me also not at all. Whenever I can get down in between, I consciously feel my feet on the ground and soak up the power of this mighty nature. I definitely prefer walking on my own feet to riding. When the horses stand still, everything around them also becomes still. Wonderful. I often close my eyes and feel the majesty of nature supporting my meditation practice.
I enjoy the first night in our tent to the fullest, despite the unfamiliar noises. Some animal has scraped close to the tent I share with my daughter. I am thoroughly happy to be surrounded by Mother Nature again and entrust myself to her. I feel the simultaneity of everything. The starry sky above us, jackals calling loudly in the distance, the fire we cooked over, our dear guides toasting to something for the countlessest time. To love, freedom, women, peace, nature, the earth, the deceased, food. Without a toast, which often comes from the heart, no sip is drunk here and then immediately empty the whole glass. And then my quiet heart, my daughter's soul movements, my husband who also has wilderness time with my son, my daughter Leela who is admiring auroras in Lapland, my parents who are actively living their retired lives as if they were 20, the war in Ukraine, the cheerful Russians with whom we share sauna and bathing room in Tbilisi…Everything is there. And none of it.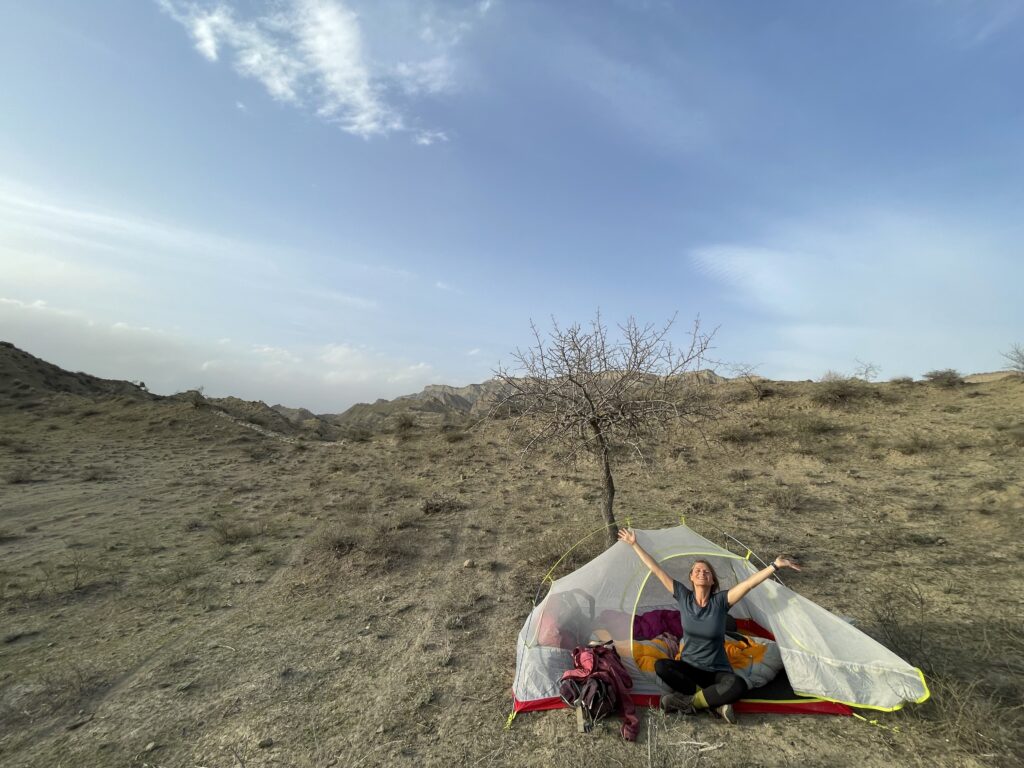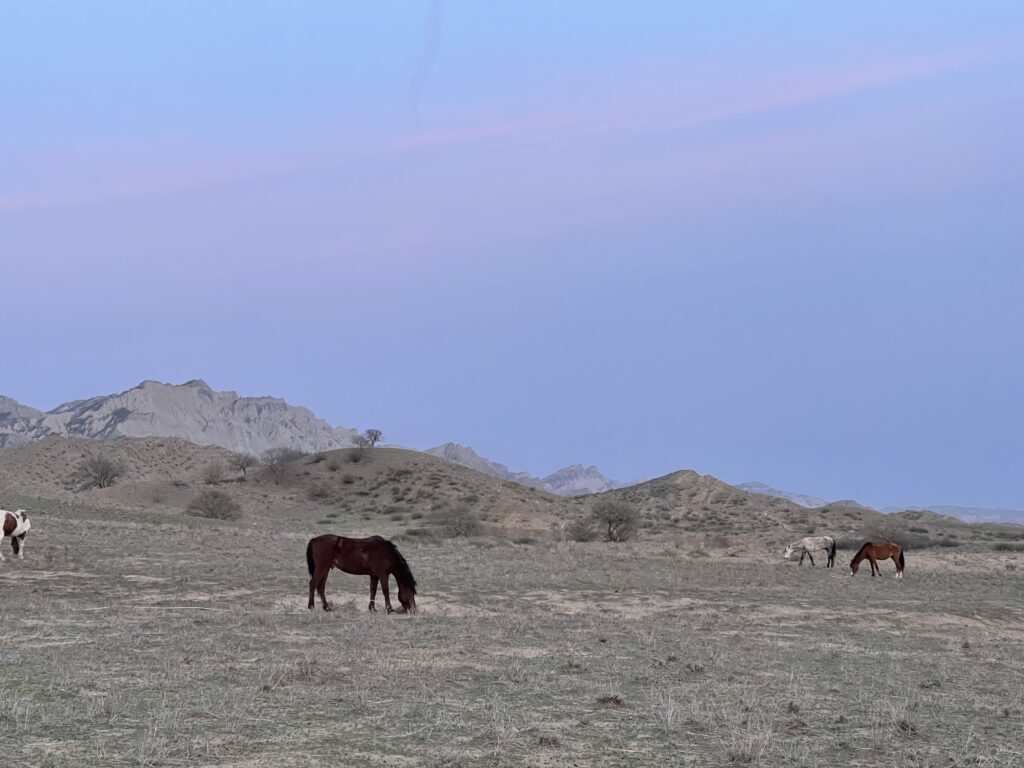 On the third day I still have not fallen off the horse. It goes through very rocky terrain with insane views, beautiful. My daughter, who usually rides ahead with the other girls, would like to gallop more, but I find the quiet pace very pleasant. Above us eagles fly, below me land tortoises run again and again. In the evening we camp at the river, in which I also wash myself. It is cold, the fire warms us and as always there are many delicious things to eat, which taste especially good in nature. In the tent Jyoti and I have one laugh after the other and later we are surprised by shepherds who fill up their water canisters for their animals at the river. If only we had camped closer to the others…
In the morning we see how one of the horses resists saddle and bridle. The situation is not pretty to watch and Jyoti goes through it with tears. The simultaneity of everything…
We canter more today and I am no longer afraid of falling off the horse. And: I am afraid of one of the horses falling, which has already happened during a steep descent into a river bed. Fortunately, the rider got away with a minor scare. Nevertheless, an impression leaving picture for me. We ride daily up to 30 kilometers, the next days along the border river of Azerbaijan. Two nights we have bungalows at our disposal, which Jyoti and I gladly decline and continue to chat in our tent deep into the night. How grateful I am to have this intense time with her! She has left her cell phone in the bus all by itself. Often there is no reception anyway. In endless vastness a surreal picture: The rangers have set up a high chair and a branch at the only place for many kilometers. In the branch fork one has reception!!! And only there!!!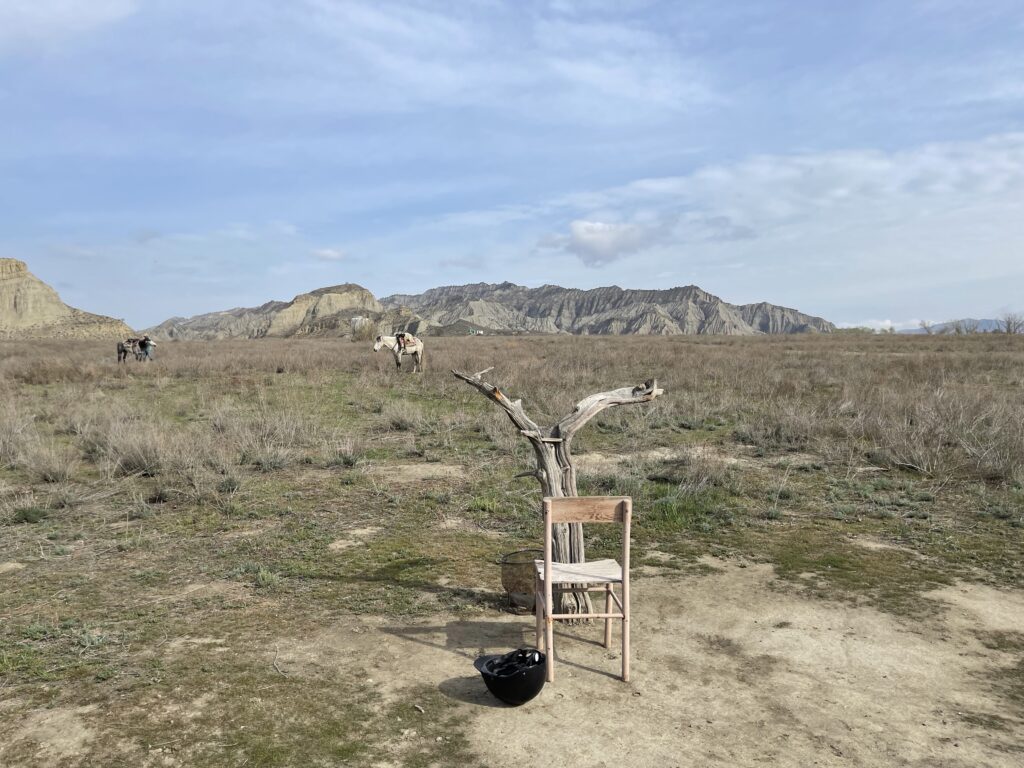 After a few more nights we reach a greener plain and I remember that it is actually spring. In the middle of nowhere a beekeeper has settled down, who lives there in a dark, warm earth cave. On his grounds, where we also spend our last night together, chickweed and chervil grow in great abundance, so I can treat my bodyin hotly loved wild herb salad. Wild herbs are one of Annette's specialties and I really feel that my cells are refueling. I am touched by the fact that the guides are also quite interested in the herbs and come along in the morning to collect them and note down recipes that they will prepare for their families later. We have some Georgian homemade delicacies in our provisions. I have never eaten so sumptuous and delicious in nature, which makes me feel sorry for my horse, whom I thank several times every day for carrying me so faithfully.