Actually, we thought we had camped in a quiet piece of forest here in Georgia, near the Turkish border. We were tired when we arrived here in the evening, still under the impressions of the bright colorful big city we had passed before. Batumi on the Black Sea has its modern as well as old buildings dressed in colorful lights. Although with us cities are not high in the course we are nevertheless fascinated by this bizarre color play.
Our sleeping place, which turns out to be a meeting place for people and animals, means for me that I teach the Friday morning yoga class between cows and farmers, who are probably surprised about me practicing strange contortions at the roadside. My tripod stands thereby in the mud mixed with cow dung of whose causers it is almost run over. I am glad that it is warm enough for outdoor yoga again, the cold of the high Caucasus is still in my bones.
Back at the bus, we pack our seven things and set off for Turkey. Half an hour later, we find ourselves in the absurd hustle and bustle of people from different countries, most of them crossing the boarder on foot with plastic-wrapped boxes.
We need a Covid test, which many of the surrounding touts already suspect and make us the most diverse offers – also of things we don't need… Finally, we find ourselves in a tiny self-made container, in which the inhabitant (or employee) makes us understand with a wave to a cot that he has spent the night there.
With a cigarette in the mouth, the quick tests are taken out and the woman next door is fetched from the exchange office to take the test from us. Now a cable has to be laid to get the computer started. For a piece of paper, which later – as we already suspect – nobody will pay attention to.
While Lukas and our bus are passing the border and the associated controls, I and the children are being channeled through buildings and corridors reminiscent of an airport building. From time to time our view falls out of the windows, washed up by the waves of the sea, which is shining blue today.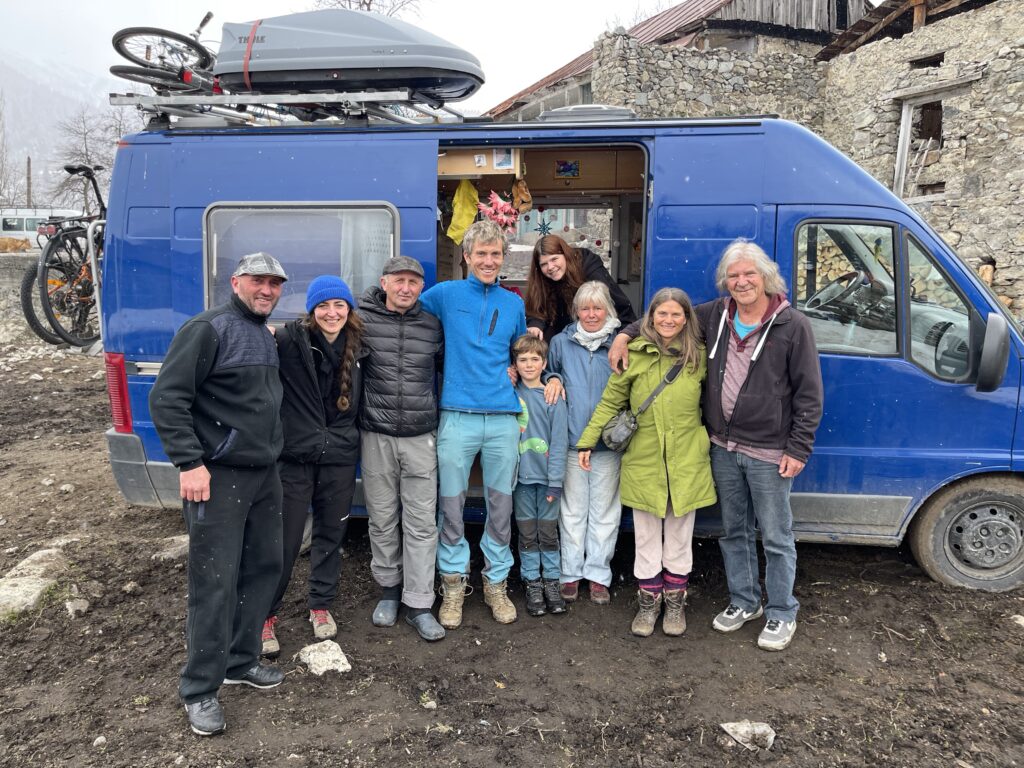 Arriving in Turkey, we squat down on the ground to wait for our blue bus. I feel a bit queasy, so massively separated from Lukas. Finally my daughter spots him. When we want to get in, there are suddenly 10 other people around us, who are also about to get into our vehicle. I need a few moments to classify the situation and interpret it in such a way that in our mobile home a practical means of transportation is thundered. We see it differently…
Now our trip really starts. Actually, we didn't want to drive long distances at a stretch anymore. This is a pain point for me on this trip and exhausting for my nervous system. We drove all the way to Georgia to give our 14 year old daughter her much anticipated horseback riding adventure. (You can read about it HERE)
Today I am not feeling well. I woke up with anxiety and spent quite a bit of time trying to activate my parasympathetic system. Laying hands, feeling areas of the body that feel okay, deepening breath, shaking… Finally, teaching the intuitive gentle morning practice among the cow poop and hazelnut trees has grounded me again.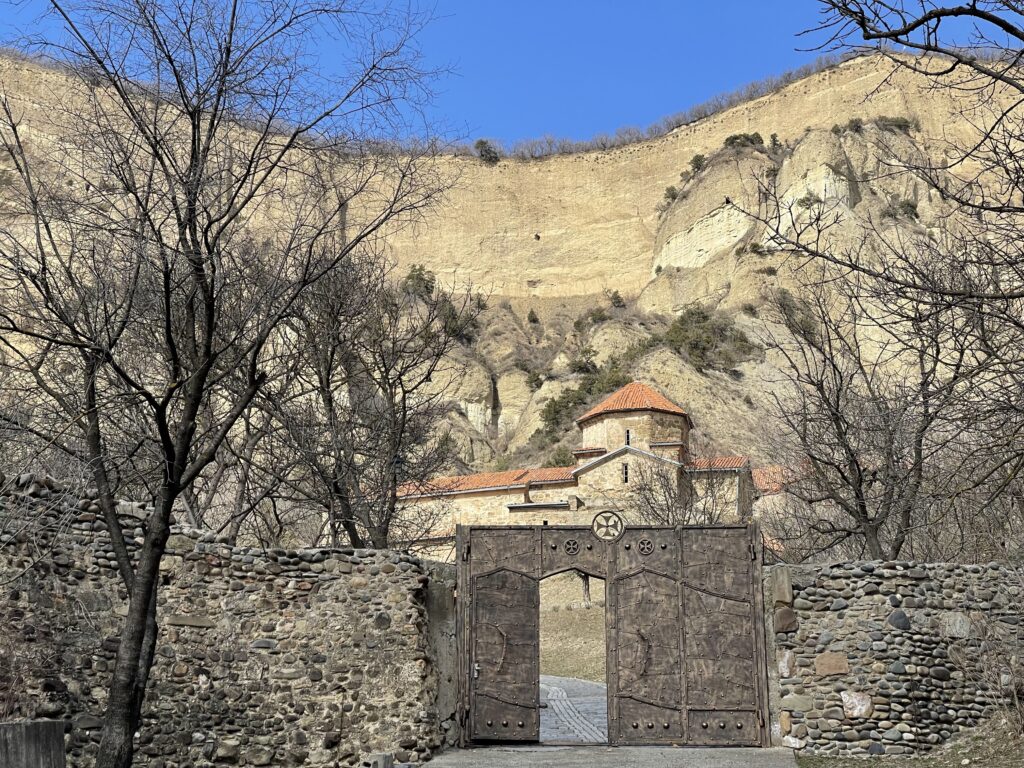 A few days ago I heard that we won't be able to buy our long-awaited house in Steyerberg Forest after all. The reason: the neighbors, who live on a farm not visible in the distance and who own the land (not the house), express with disgust that they hate people who come from the eco-village where we have lived for the last 13 years. At first I was just sad and shocked by this xenophobia that I have encountered before in "our" village. Sad about us people who judge without really understanding and questioning. And observe the tendency to judge. Forgetting that people hate out of fear, and perhaps out of grief from unloved life. All at once I feel steeped in world-weariness and suffer.
We long to move out of the confines of the Lebensgarten Steyerberg, which we value enormously and love our children very much. We long for space to unfold. Space for my son's animals and for his own workshop, A house surrounded by nature.
And there I am. With my infatuation. Challenged with wanting something that is not there and not wanting something that is there. A wonderful opportunity to deepen my Buddhist practice. Everything is impermanent. And pain is part of it. Where in me do I find the space to hold it? Not only my little self-centered pain, also and especially the world pain….
And there I am. With my delusion. Challenged with wanting to have something that is not there and not wanting to have something that is there. A wonderful opportunity to deepen my Buddhist practice. Everything is impermanent. And pain is part of it. Where in me do I find the space to hold it? Not only my small self-centered pain, but also and especially the world pain…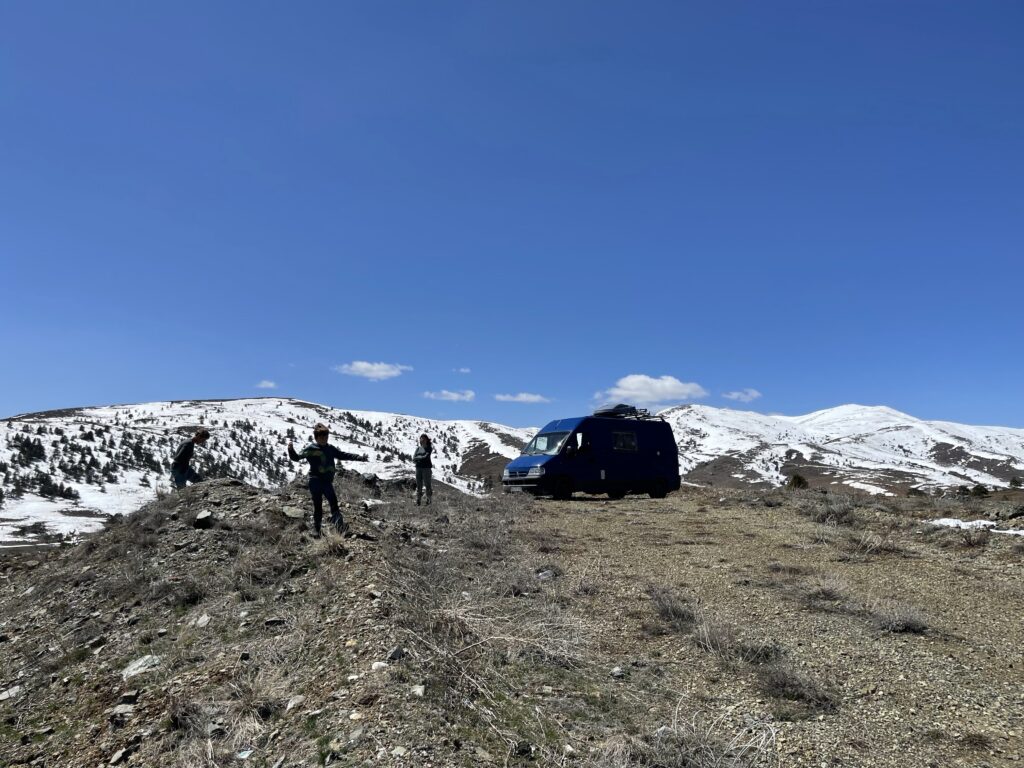 See the positive. Here and now. After another three hours of driving through the mountains, along a huge reservoir, which has countless houses hidden in it, ("We're crazy, we humans…"), we take a break between 3000 meter high rocky mountains, which rise up imposingly next to us like a castle. We take out the camping table, prepare salad, herbs and the delicious Georgian potatoes, and dance with music… There it is again, this pure joy of life, rocking between mountains and river with my husband and our children in all solitude under the blue sky. Yeah! Yeah!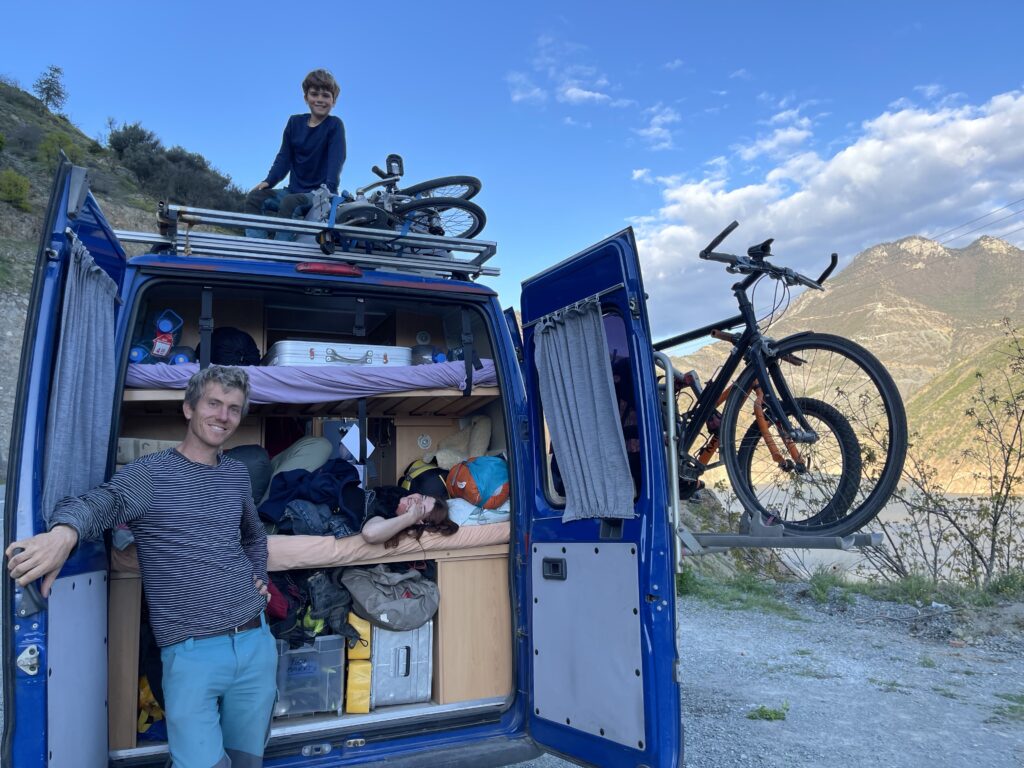 Two hours later, our car crawls through 27 tunnels that are very demanding for me with my claustrophobia (so that I have to get up and dance in the bus) along this new road that the dam has brought. So much money, so much destruction of nature for this disaster of people…and yet hardly ever a car on this huge road that winds through the mountains there.
At an altitude of 2090 meters, a mosque stands between snow-capped mountains that allow a wider valley up here. Next to it wonderful fresh spring water. This will be our sleeping place for the night, with ice puddles to crack in the morning included. My last look before the night's rest falls on the full moon, which bathes this lunar landscape that surrounds us in its enchanting light.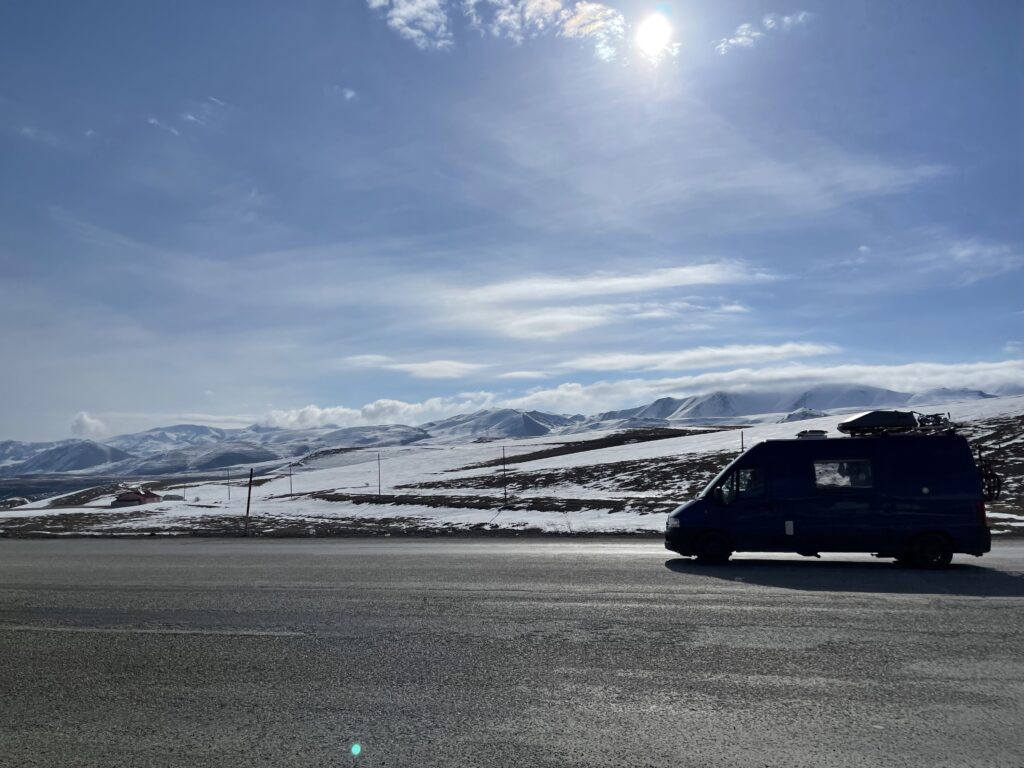 Filled with the life out here, with the flexibility and freedom we have, my breath becomes deep and calm. In all the joy, woe and immense gratitude for our wealth, especially the wealth of having our children, I am painfully aware of the transience of it all. The children are getting bigger and soon they won't want to live with us on a few square meters in a bus… The more intensely I try to enjoy this time and soak up all that we have experienced and felt together…. I love my family!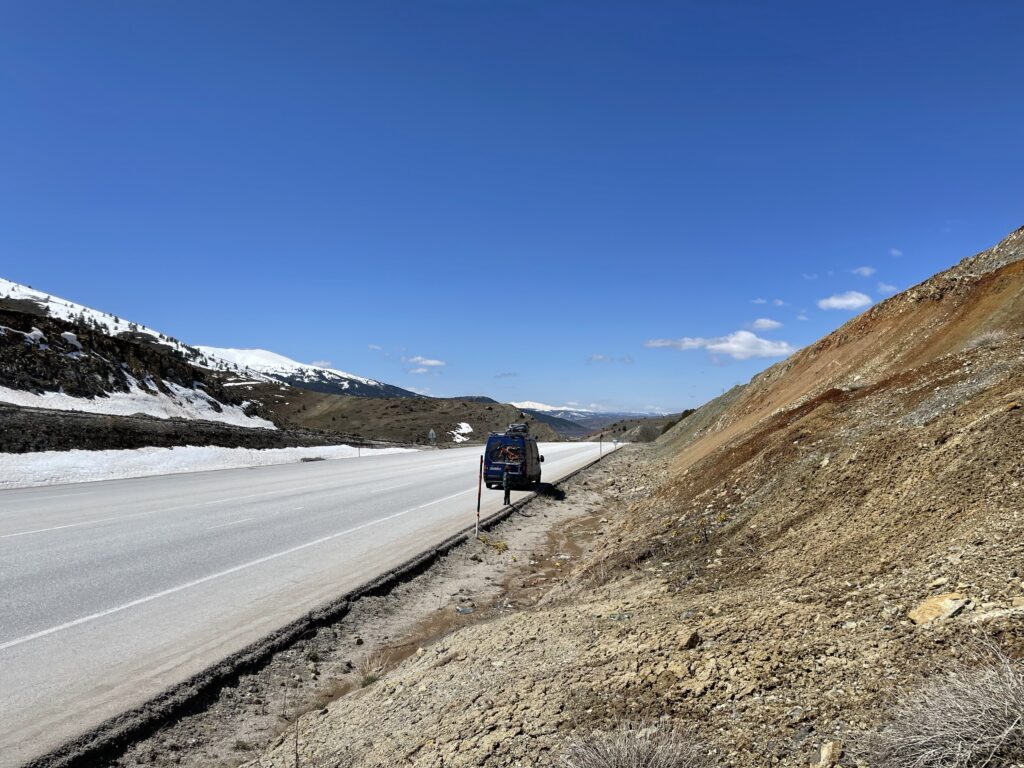 Thank you for reading! I am very happy to have the opportunity to share here. Feel free to write me feedback if you like! To my other blog articles and videos you can find HERE.
Starting June 21, I will offer an "Embodied YinYoga" course through Zoom. The course will take place 9x and is recognized by health insurances. It is perfect for beginners or if you want to deepen your practice. Maybe you will experience a part of our travel impressions live online. I would be very happy to have you with me! The course will be duo-lingual.